"One of the methods commonly recommended for dealing with body aches and pain is by using a deep tissue massage gun like the WuBeFine Massage Gun. A deep tissue massage gun is a kind of handheld designed to massage the body by sending pressure pulses that can penetrate the muscle and tissues."
7 Best Massage Guns 2021 (Top Rated Massage Guns 2021)

This type of device is commonly advertised as being able to help users relieve aches, pain, and soreness in the muscles and tissues. Manufacturers also claim that products like this can aid muscle recovery and also reduce the risk of exercise injury. But how true are these claims?
The answer to this question is worth knowing since the best handheld massagers can be a bit expensive. Before investing in this, it is good to want to know if they are worth it and if they'll work as advertised. In this article, we review the WuBeFine Deep Tissue Percussion Massage Gun to determine if is worth buying or not. Don't Miss Our Picks of The Popular Articles: You Want This Massage Gun.
What Is a Massage Gun Good For?
As mentioned, claims about what a massage gun is good for numerous. What you get from it depends mostly on your goals and lifestyle. Generally, the main purpose of a massage gun is to make it possible for you to relieve sore muscles, body pain, and knots by yourself without the need to visit a massage parlor or visit a professional.
A massage gun is a portable device designed to vibrate and apply percussion directly to your muscle and deep tissues. It can be used to massage any part of your body causing discomfort including your feet, upper back, abs, arm, and so on. A device like the WuBeFine Deep Tissue Percussion Massage Gun also promises to aid recovery after intense workouts among other benefits.
WuBeFine Deep Tissue Percussion Massage Gun Review
Advertised as a percussion massage gun for athletes, this portable device can be used by pretty much anyone in need of the benefits of a percussion massage gun. This massage gun offers 4 different speed levels and comes with 15 different massage heads. This plethora of options makes it suitable for massage different muscle groups.
This massage gun is designed to deliver percussive therapy that penetrates as deep as 12mm into the deep fascia tissue for optimal effect. It is designed for convenient use. It is portable and lightweight and comes with an ergonomic handle that makes it easy to handle. The cordless design also enhances portability and makes it suitable for on-the-go use.
Pros
15 different massage heads for different massage options
Ergonomic handle with anti-slip grip
4-speed levels
Portable cordless design
Powerful 2500mAh battery
Cons
Who Is a Massage Gun Best For?
Pretty much anyone can use the WuBeFine Deep Tissue Percussion Massage Gun. However, it is recommended for this category of users:
Athletes at all levels that desire speedy recovery before and after workouts
Anyone who is on their feet for long periods at a stretch.
Those who sit at a desk for a long time and experience back, shoulder or neck discomfort.
These classes of people can easily use a massage gun at home without the need to visit a professional for massage.
Do Deep Tissue Massage Guns Work?
A good-quality deep tissue massage gun like the WuBeFine Massage Gun would work for its intended purpose. If your goal is to soften rigid muscles or relieve aches and pain in your tissues and muscles, then this massage gun would work great for you. It can potentially improve blood circulation, boost muscle recovery and reduce the risk of injury among other benefits.
The following are some of the features of this device that makes this handheld massager efficient for deep tissue massage:
Heat dissipation: this percussive massager is designed to dissipate heat efficiently as it operates thanks to an intelligent control. This allows it to deliver at optimal performance and still perform for a long without overheating.
Deep tissue massage: this percussion massage gun has an amplitude of 12mm which is strong enough to penetrate deep into the fascia and muscles for optimal effects.
Brushless high-torque motor for noise reduction: one common problem with many massage guns is that they operate too loudly. To prevent this, this massage gun features a brushless motor designed to reduce noise.
Adjustable speeds: you can choose between 4 different speed intensities depending on the amount of pressure you desire.
How Long Does WuBeFine Massage Gun Battery Last?
It is crucial that you do not take too long on your massage. Generally, you should only use about 2 minutes to massage each muscle group at a time for optimal effect. The WuBeFine Massage Gun is designed to deliver throughout your massage. With a powerful 2500mAh lithium-ion battery, this massage gun can deliver a run time of up to 6 hours.
However, with 4 different speed modes, how long the massage gun will last depends on how it is being used. At the lowest speed, it will last for up to 6 hours. But when used at higher speed levels continuously it may not last for that long.
Can WuBeFine Massage Gun Penetrate Deep?
One of the main things to check when looking to buy a massage gun is how deep it can penetrate. The WuBeFine Massage Gun is designed to offer a penetration of up to 12mm into the tissue. This is good enough to enhance blood flow, aid relaxation, and ease muscle knots and ache. However, the type of head used and the operating speed will determine how effective the massager will be.
Conclusion
So are massage guns worth it? Given all the features and benefits of the WuBeFine Massage Gun highlighted in this review, it is obvious that a percussion tissue massage gun like this will deliver satisfactory results for different categories of users. You can be sure of an enjoyable massage experience that can be customized to your preference by varying the massage head and speed to your preference. Give TheDailyMassageGun.com A Try? You Want This Massage Gun.
Read More Our Review: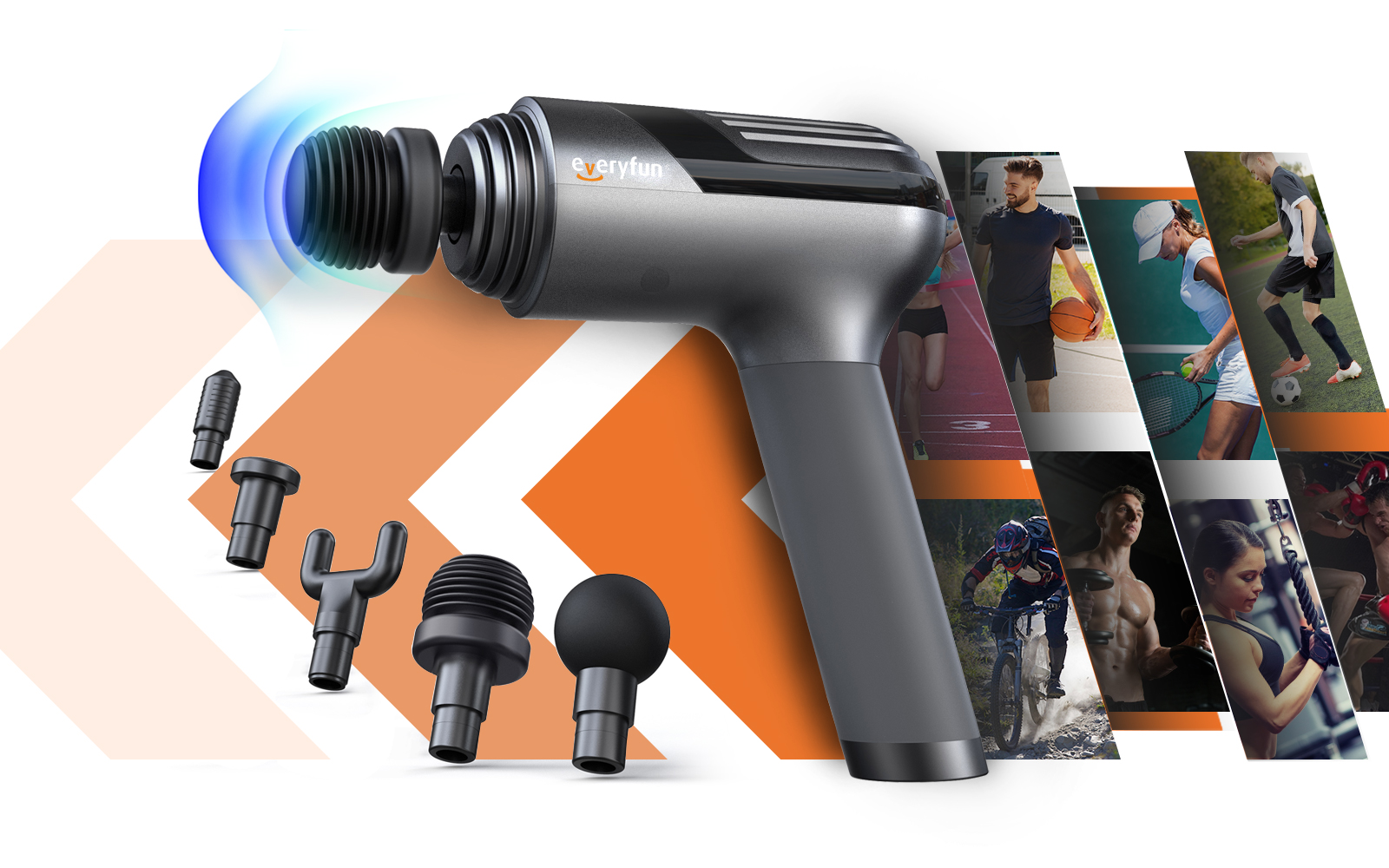 Don't Miss Our Picks of The Popular Articles: