Chinese electronics company Xiaomi has just released something that could get driving enthusiasts very excited: a go-kart. However, this is no ordinary go-kart and has been created with input from Lamborghini.
The new product is one that aims to bring the fun of racing to another plane. The model looks like a stylized version of Ninebot Gokart Pro, which was launched in China earlier this year.
Xiaomi, now 10 years old, is celebrating this special milestone for its loyal fans.In fact, it's more than just a "small" thing: a special Lamborghini version of the highly popular electric Ninebot GoKart Pro.

Segway Ninebot S (White) and GoKart Drift Kit Bundle
The original GoKart, sold in the US by Segway, was only available in white. The Lamborghini version is yellow with the Lamborghini logo on the bumper.It also comes with Ice Lake Blue LED headlights to provide better night visibility (as well as extra coolness) and custom tires that are said to elevate your drift game a few notches.
Other improvements include the TPE's soft crash-proof front lip and aerodynamic TPE side skirt, ensuring a comfortable, safe driving experience and improved reliability in the event of a collision.
Based on Xiaomi's Ninebot kart, the Lamborghini edition adds the Raging Bull's emblems, graphics, a rear wing, and comes painted in classic Giallo Orion yellow.
The Gokart Pro Lamborghini version USES a high-strength steel frame with a payload of up to 100kg, provides better torque rigidity and is effective against road crashes at high speeds.
The go-karts are also fitted with TPE soft front lip and aerodynamic TPE side skirts for better impact buffering and ride safety. Ninebot says this prevents minor problems such as bumper breaks.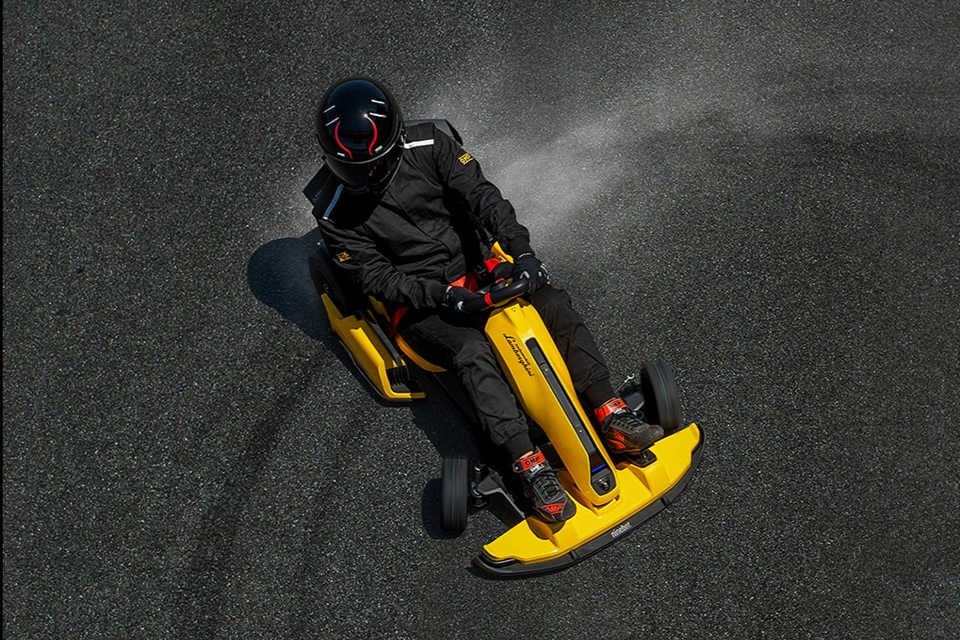 NineBot GoKart Pro Lamborghini versions are also capable of creating the sound of an artificial racing engine, according to Xiaomi. The kart can race on a full charge at a speed of 40 km/h at a distance of 62 meters on a 400 meter track.
In addition to the exterior colors and Lamborghini logo, the core configuration and functions remain unchanged. It is equipped with a high-performance air-cooled motor, with a peak power of 4800W, a maximum acceleration of 1.02g, and a top speed of 37Km/h.
At the same time, it also integrates four 8W high-power speakers, which can simulate sound waves and also support Bluetooth speaker function.
In addition, the built-in 432Wh four wind channel air-cooled battery pack, under full power can be in 400 meters on the track to open 62 laps or so.
Other features include aerodynamic rear fins, race-car metal pedals, race-car soft TPE front lip, and race-car rear reflectors.
Xiaomi's $1,500 Ninebot GoKart Pro Lamborghini Edition Is All-Electric With Supercar Sounds. According to Xiaomi's Lei Jun, this may be the first Lamborghini for young people.
If a Lamborghini is slightly out of your financial reach, there's another, more affordable option on the market — the Ninebot x Lamborghini GoKart Pro.
More Perfect Christmas or Birthday Gift for kids
You May Also Like: