Lexus recently unveiled a model that interests us: the Lexus LX J201 concept car.It's actually an updated version of the LX570, which Lexus says was assembled by Expedition Overland.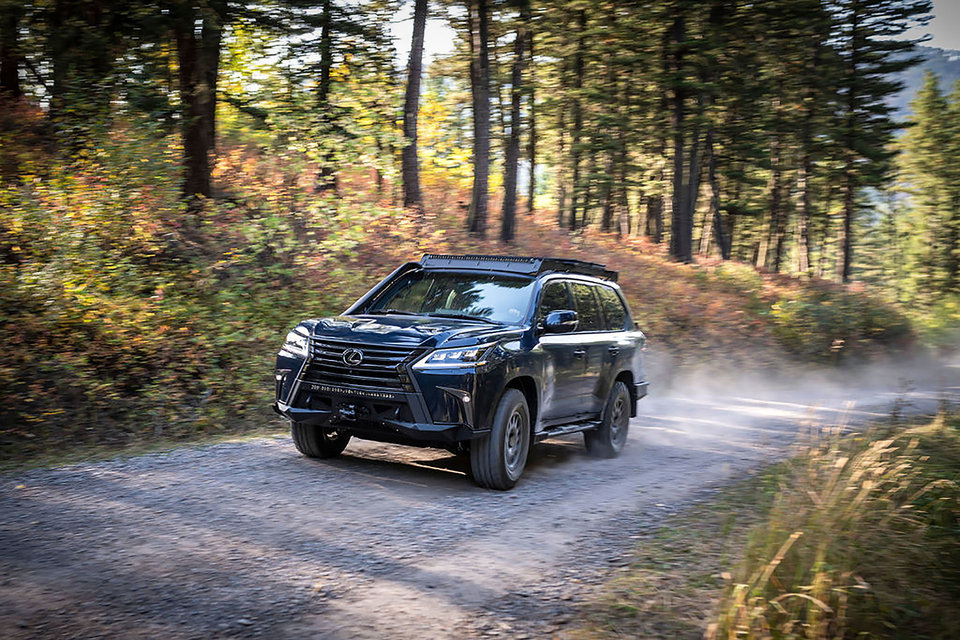 The Lexus LX 570 has a 5.7-liter naturally aspirated V8 with a maximum output of 383 HP and 403 LB-FT of torque, while the J201 concept boosts the output to 550 HP (410 kW).



It also adds a TJM Airtec intake pipe on the right side of the hood for crossing deeper waters.There are also 17-inch EVO Corse DakarZero wheel hub, 33-inch Grabber X3 tyre, CBI off-road anti-skid board, Prinsu Design roof rack, and RIGID Industries light bar.
J201Concept is not just a concept car, because J201Concept will also participate in RebelleRally cross-country race, which is scheduled to take place in North America on October 8, 2020 and will last for 10 days and cover a distance of over 2000km.
To cope with this demanding off-road rally, the J201Concept's 5.7-litre V8 petrol engine has also been added to the Magnusonsupercharger, increasing its maximum power from 383hp in the LX570 to 550hp!As for the right side of the hood and front gear /A column parts are also equipped with suction tube, easy to lift wading depth.
The appearance of the body is also in response to off-road tension demand, including the front and rear guard rods, such as capping, lighting fixtures, chassis protection plate…Such as modification and upgrade.There are also new metal ladders behind the tailgate that allow for easy access to the roof, as well as opposed-out metal frames that carry 5-gallon buckets and spare tires.Open the tail door and there will be drawers, special beds for pet dogs and water bowls…Etc. In addition, there are ZeroHalliburto suitcases convenient for storing clothes.
For chassis, J201Concept USES a 17-inch EvoCorseDakarZero wheel hub, 285/70R17 GeneralGrabberX3 all-terrain tire, standard line-type brake disc and Super sports high-performance brake to control the disc, and even a front and rear differential to help improve off-road performance.For the suspension system, it's an IconVehicleDynamics suspension system with a swap up to 122mm on the front and 104mm on the rear.
By RachelleCroft TaylorPawley composed of two women drivers TheXElles team, will from this year on October 8, driving a lexus J201Concept, the only ones, maps and road book difficult conditions, after 10 days, more than 2000 km mileage, and by the California across to Nevada, California, Nevada RebelleRally pull close car experience 2020 cross-country race hard trip!